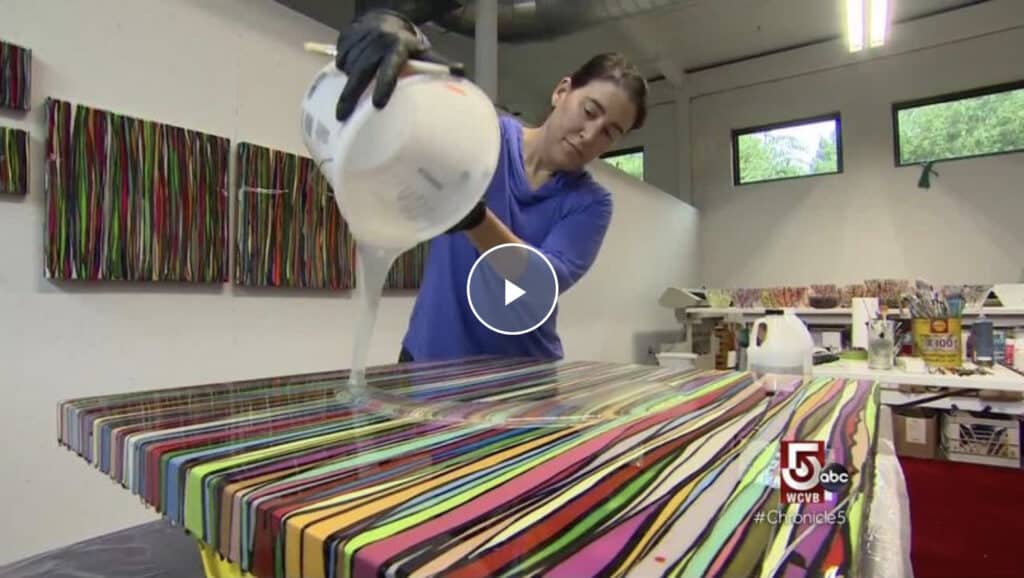 Meet Angela Marenghi of Little Bird Events, Alex Jones from Alex Jones Photography and Stephanie Silva from Stephanie Silvi Art, three start-up entrepreneurs who are taking risks doing what they love.
Two local developers took a forgotten space in Norwood and turned it into an opportunity for entrepreneurs and artists to chase their dreams.
Last week, WCVB Chronicle stopped by the Norwood Space Center to talk to a few of our tenants following their dreams. Jesse Grossi sat down with Angela Marenghi of Little Bird Events, Alex Jones from Alex Jones Photography and Stephanie Silvi of Stephanie Silvi Art and talked about the risks these three entrepreneurs have taken to follow their passion and go into business for themselves.
Two of the partners from the Norwood Space Center, David DePree and Michael Juliano, discuss their thoughts and ideas behind this creative project.
SEE TRANSCRIPT:
Throughout the 1900, 83 Morse Street buzzed with activity as the Bird family grew their business. manufacturing paper to roofing material to linoleum, they created countless jobs for workers building their American dreams. But times changed, the plant closed and the sprawling space changed hands.  
Michael Juliano, " It was a moth ball operation with the previous owner. He was just keeping it kind of alive."
Enter Dave DePree and Michael Juliano who bought the property with Jim Goldenberg and Jeff Johnston of Cathartes, Boston, and the Norwood Space Center was born. They saw a lot of square footage and the opportunity to open the doors to a wide range of entrepreneurs. Juliano and DePree describe themselves as creative and having a soft spot for artists types. "They have a dream of wanting to belong to a community. They are our favorite customer because we want the nontraditional tenant."
Like artist, Stephanie Silvi. You will find her colorful pieces hanging in buildings around the world, but because she cannot support herself on art alone, she has a day job. "I have tried to quit a couple of times and just do this solely and it's very nerve wracking because you worry about how you will pay the bills and make a living.
And demoralizing; the world of an artist is isolated.  "I used to work out of the basement of my house, and it was grueling and, you are by yourself. it's not very motivating." But her dream reignited in an instant when she stumbled on studio space here. The selling point…affordable rent. "I originally was looking at spaces in Boston and it was outrageous. I was looking for a live-work space, but it is insane, and they are hard to find."
David DePree explains, " Small spaces like her studio are a no-brainer for startups. They are around $499 and up which includes utilities and expenses. It also includes the use of the shared workspace with conference room, kitchen, lounge area and meeting space.
Alex Jones set out to open a photography business but got cold feet.  "It's terrifying." He says Norwood Space Center was the right place to take a leap of faith. "No freight elevator, you don't have to double park on a street, with like no parking. To get in here, you can drive up and walk right in, and that is huge."
Curb appeal was also a selling point for this woman, Angela Marenghi, who opened Little Bird Events in April. When clients book this, they are also receiving her expertise and party planning. "My vision is to create an extension of your home; where it is comfortable for people to celebrate. It is more intimate than a traditional function hall. I want people to feel like they are having dinner at somebody's home and want to customize the experience for them and take care of all the details so they can relax and enjoy themselves."
This is her side hustle, but she and her husband invested life savings to make it a reality. "Big financial risk, we are living with family and have invested our house fund into this business. I think you will regret the things you don't do. It is a dream I was able to see come to fruition and I just hope everyone receives it well."