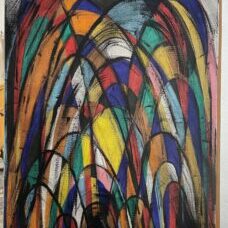 Patricia Annicchiarico
Artist – Norwood Space Center, Studio 6Z
Every moment has an emotion attached to it.
Born and raised in El Salvador, my love for art started early in life. Whether it's a painting, a still life drawing, or a sketch, I believe that capturing the emotion of the moment is vital. With that, I hope to strike a chord with the viewer. A passion for abstract art, ink drawings, and pop culture greatly influences my choices of form and color. Life experience, my graphic design background, and knowledge acquired at graduate school shape and inform my current work.
Current body of work includes intricate black and white ink drawings of everyday objects and flowers, and abstract paintings filled with color. What is the common thread? Every piece tells a story.
Website: pacreativo.com
Instagram: @pa_artiste
Work related:  LinkedIn
Norwood Figure Drawing Night at the Norwood Space Center – Hosted by Patricia A. and Duncan Reid.
Tuesday evenings once or twice a month.
Scan QR Code or find us on Meet Up