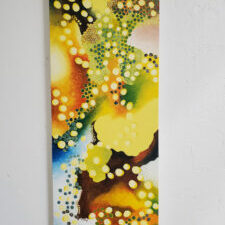 Artist: Trish Mac Donald
I have been creating alternate worlds since childhood, in various materials, and as an adult undergrad, majored in studio art and sociology.
Although at first having worked in watercolor, ink and pencil , when introduced to oil paint by a cherished art instructor as a young teen, painting in oils became the favorite medium of expression.
My work tends toward the abstract – utilizing color and organic (and sometimes geometric) shapes – that can coalesce into something unreal – yet maybe familiar – which allows the viewer to tap into what's going on in the work using their own intuition – and experiencing their unique response to each.